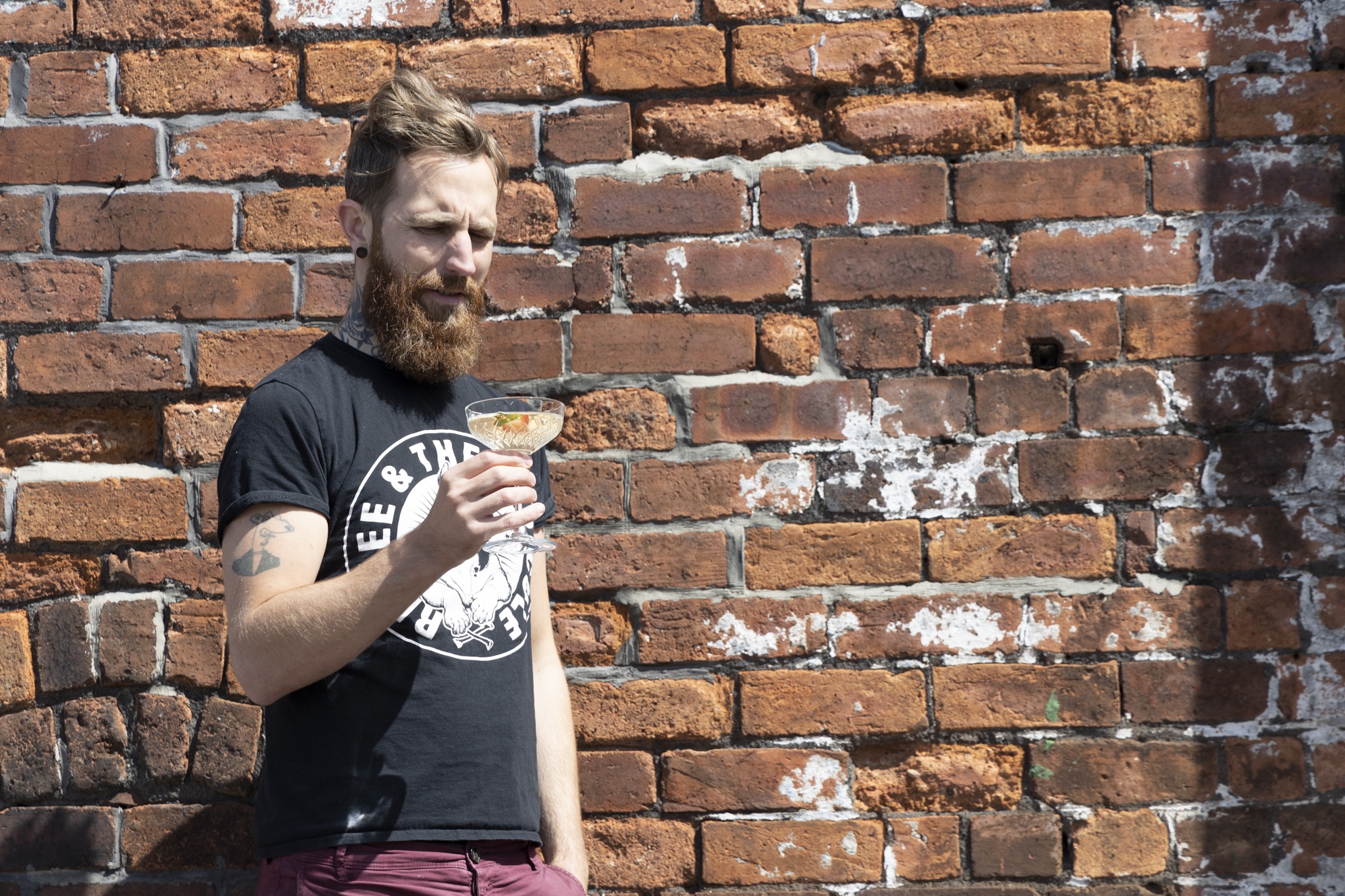 The Maker, The Rascal
– Dan Walsh
Ex teacher, turned booze enthusiast, formerly of Tinker Gin, flies solo. March 2019 saw the bottling of the first small batch, having abused all possible credit cards to make it happen. Fuelled by passion, sincerity and a load of gin.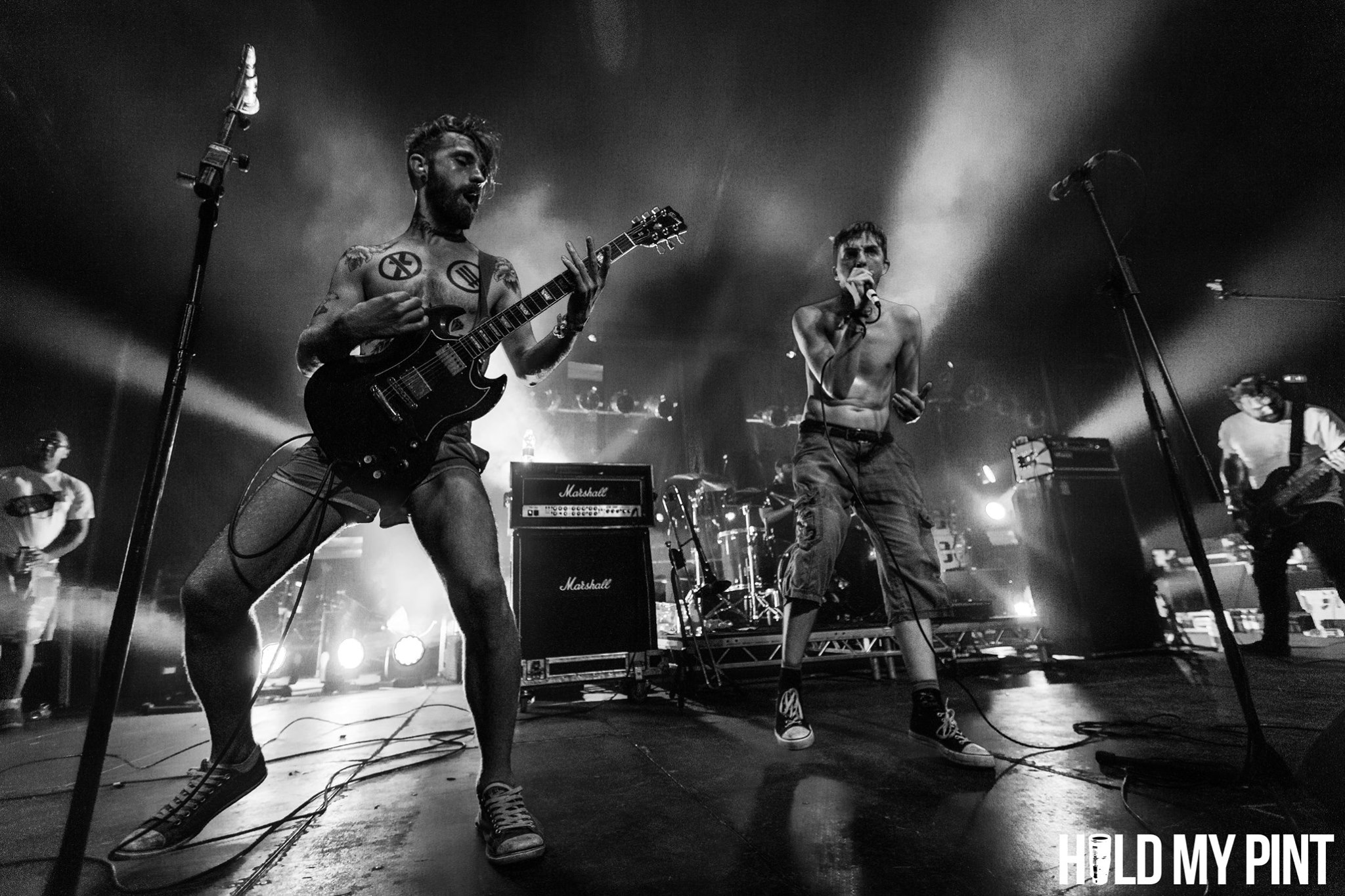 The Full Rascal
Based in south Liverpool, I was a music teacher in a college, also in a band called Random Hand, based in Keighley, West Yorkshire. While in Keighley one weekend I ended up working on a bar at Leeds Corn Exchange, for an up and coming event company, Gin Festival. I'd never worked a bar before, primarily it was an awakening seeing how many gins existed – at least 50 on the bars then. Before I knew about 3. My booze background was more wine / whisky. I was lucky enough to have spent a lot of time in the south of France when I was younger tasting/drinking lots of wine and getting in to flavour. I had no idea gin could be as complex though, nor did I realise that the gin world was set for world domination!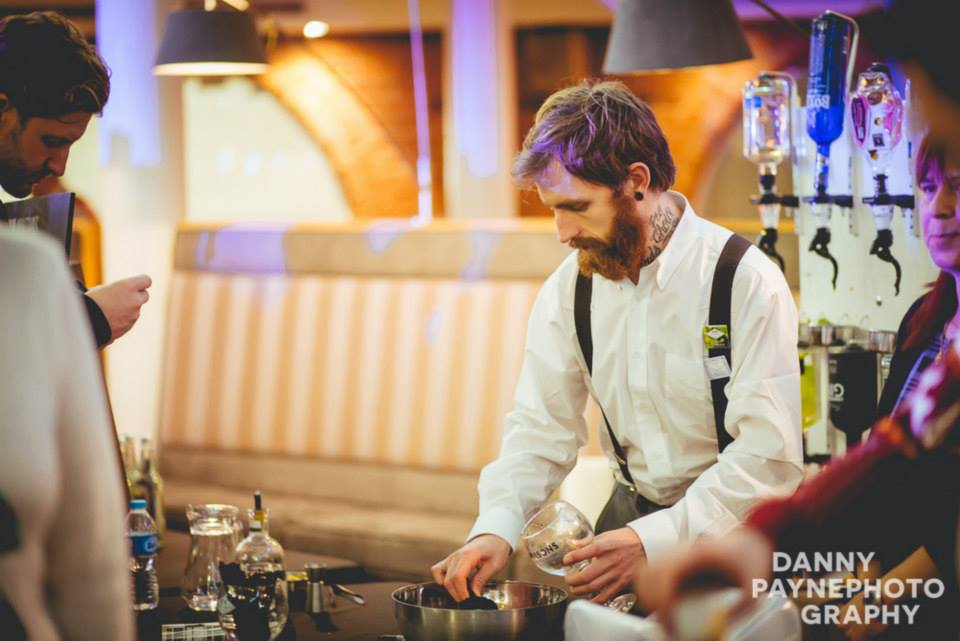 Gin came calling!
As gin, and Gin Festival's popularity grew at an exponential rate I worked loads more events running the bars with some great Scouse beards / other frustrated teachers, and it was there that we honed our gin knowledge. Around this time, the college we worked for essentially offered me the wonderful opportunity of continuing to have all the responsibility of my full-time course leader role, but with a third less contact time and a third less pay. Despite this very 'interesting' situation, I suppose the silver lining was that it made me available to commit to Gin Festival.   
The gin world gradually became my main thing as I gradually pulled off from teaching (so to speak). I remember helping out on the Sir Robin of Locksley brand table at a couple of events, which ended up being a significant moment in the journey. For one, it got me 'scouted' to join the Tinker Gin project, but also that's where I made friends with the wonderful Locksley guys.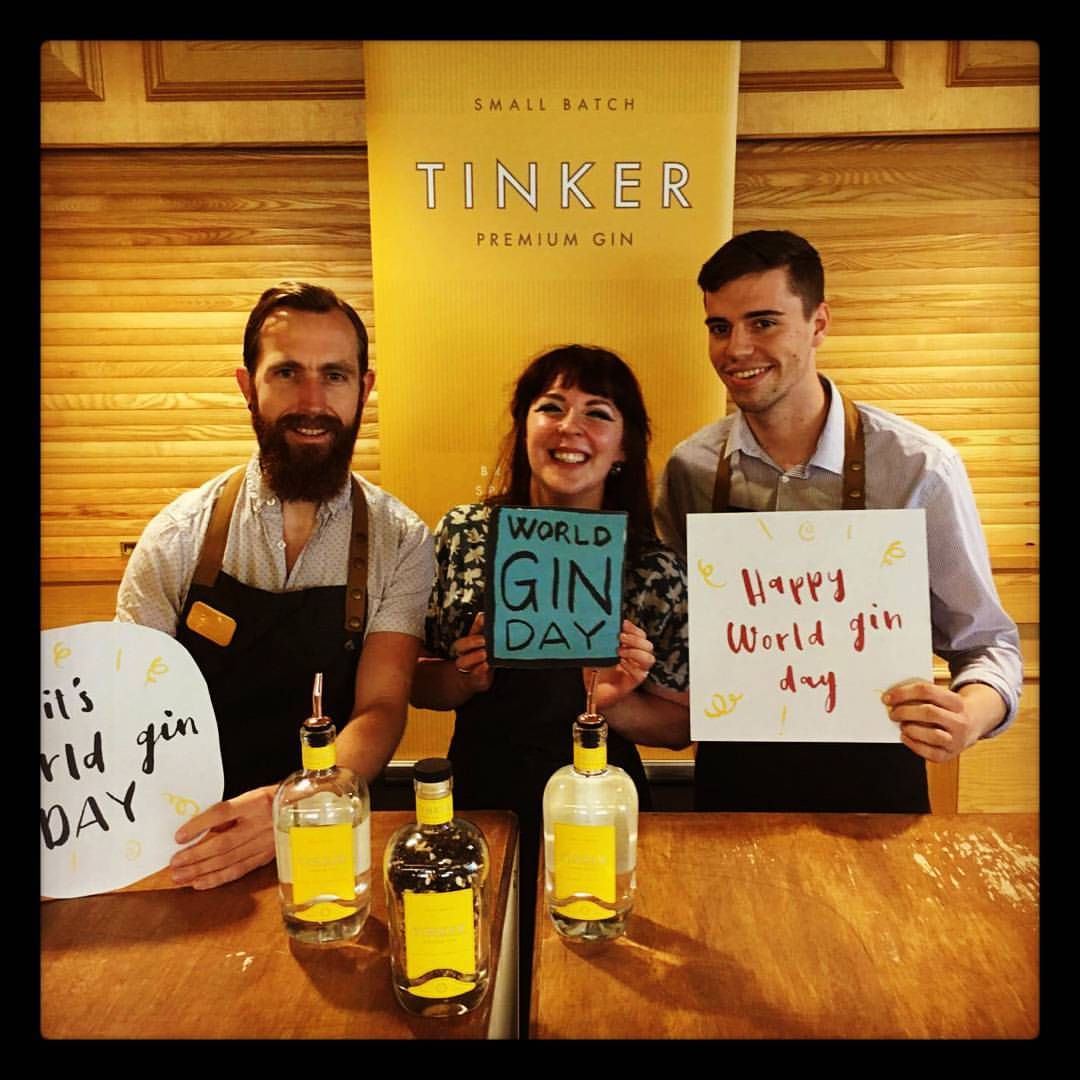 The Tinker Gin
This was a project initiated by the owners of Gin Festival, with a few other staff members also involved. It was a really interesting thing to be a part of and undoubtedly laid the groundwork for me eventually do Rascal. Particularly working with the graphic designer and the photographer – a pair of top bananas I'm incredibly lucky to have had helping me with Rascal too.
Tinker was flying wherever we went, which lead to me going full-time on the gin and leaving teaching! I felt elated and privileged to have escaped, so I got madly committed to Tinker / Gin Festival. Unfortunately, moments after I jumped ship, I soon became aware that the owners had employed an 'accountant' guy to 'run' the business (salary £100k, not full-time). Let's say his name was Carl Flopkins. He then brought in his mate, a 'hot-shot' digital marketing guy that by chance was out of work at the time (salary £75k). Let's say his name was Phil Mypockets. Within the team, they became about as popular as two floppy cocks on a porn set (I imagine). Zero personality.
Surprisingly, getting them in didn't turn out to be a great shout… And a year later Gin Festival Ltd folded, including Tinker Gin.
From Redundant to Rascal
I was at a loss to say the least (ie shitting my pants with a massive mortgage on my head and no income). I started to explore the idea of doing a gin myself, without all the greedy, sneaky bastards spoiling it. I remember receiving a call from Carl Flopkins asking if I could sell his 'theatrical' themed range of gins. I try not to get too distracted judging others / being negative etc and be more concerned with what I'm doing, but it did sound pretty wank. I did think it funny that despite the collapse of GinFest supposedly hitting 'everyone' so hard, he was able to launch a 6 gin portfolio immediately after… I also found irony in the theatrical theme he'd chosen for the brand. I politely declined the offer and got back to planning my thing.
'I was trying to create something high quality but also something as authentic, honest, fun and unpretentious as possible'
The name Rascal popped in to my head, felt apt – a bit cheeky and fun like Tinker was I suppose. Flavour-wise I took inspiration from various cocktails where citrus and tropical flavours proved a pleasing combo – so I was going for a tropical gin. I then got in touch with the bottling plant Tinker used to see how feasible it was for me to make it happen. My first recipe that almost became the Original Rascal was actually passion fruit and gooseberry, but the logistics of that one looked a bit sketchy so I carried on experimenting… Finally one seemed to have some indisputable 'wow factor' that I needed to justify entering a market already stacked with great gin.
Regarding the bottle – I was very keen to have a matte coated bottle with a screen-printed label, partly for aesthetic but also for the feel of it. I soon found out that this was an expensive process, and not very feasible for small quantities. I was very lucky to find an established local company that would accommodate my small numbers. I vividly remember the point I got the decorated bottle through, the whole thing started to feel real!
So Christmas 2018, I had a brand in theory, I had a tasty gin, I had a cool bottle… However, I'd also been effectively unemployed for about 6 months since the redundancy so my bank balance was approximately £0, at best. Just before maxing out a £15k credit card to go for it, I remember asking my dad something like 'Am I totally fucking mad?'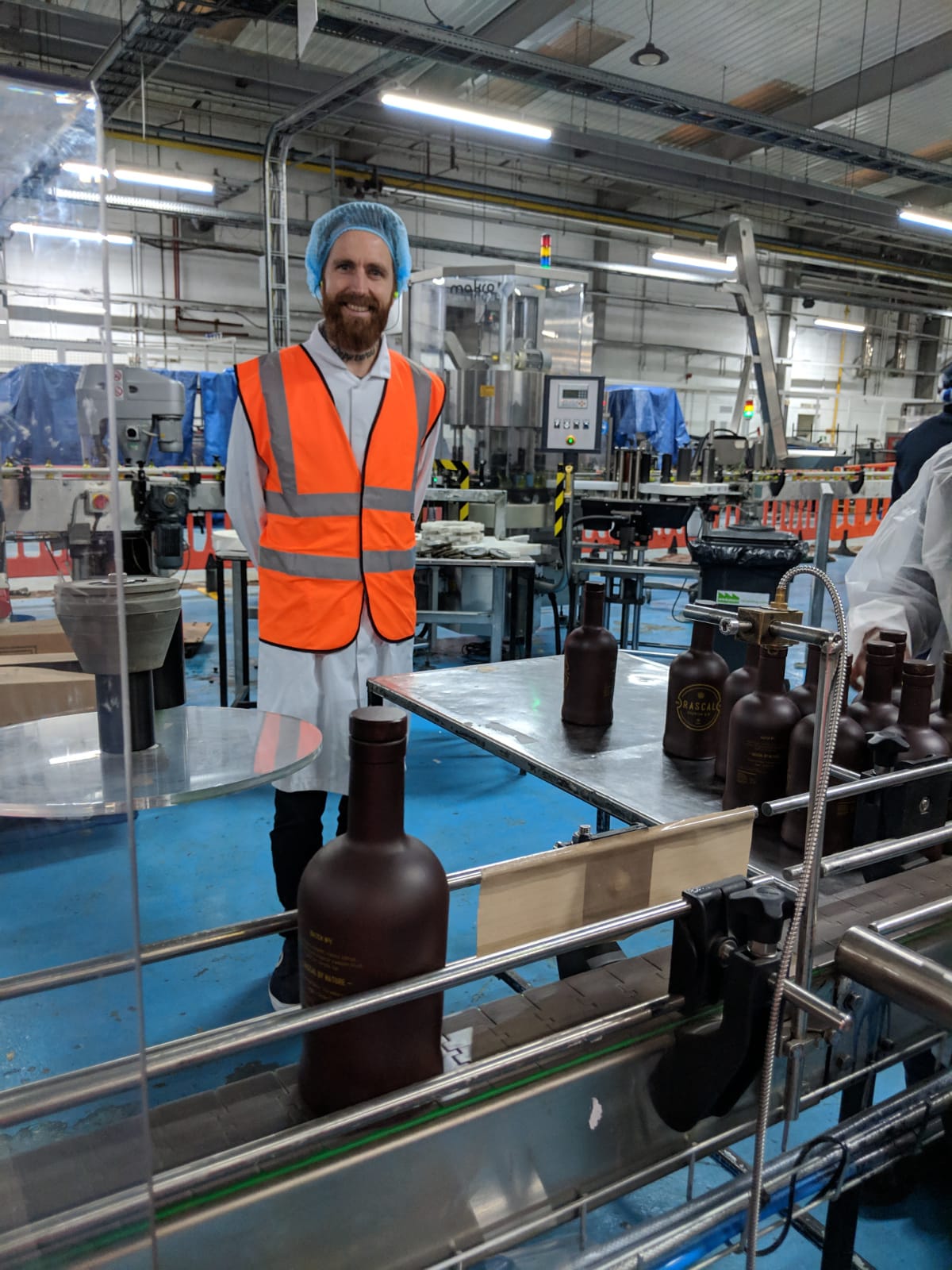 Batch 1 Bottling
At the bottling plant, bottling batch one – mega excited and terrified in equal parts. It looked like everything had turned out great!
Unfortunately, I later found that there was an issue in transit that damaged many of the bottles, I was pretty gutted and very anxious. Then the night before taking Rascal out for the first time (Northampton Gin & Rum Festival) there were some serious winds, I opened the storage unit on the morning of the event only to find stacks had blown over and smashed bottles on the floor. I literally wanted the earth to swallow me up.
It was an overwhelming relief when Rascal got such an amazing reception in Northampton. I massively appreciated the support and friendship of the Gin&Rum Festival team as I tried to get Rascal off the ground.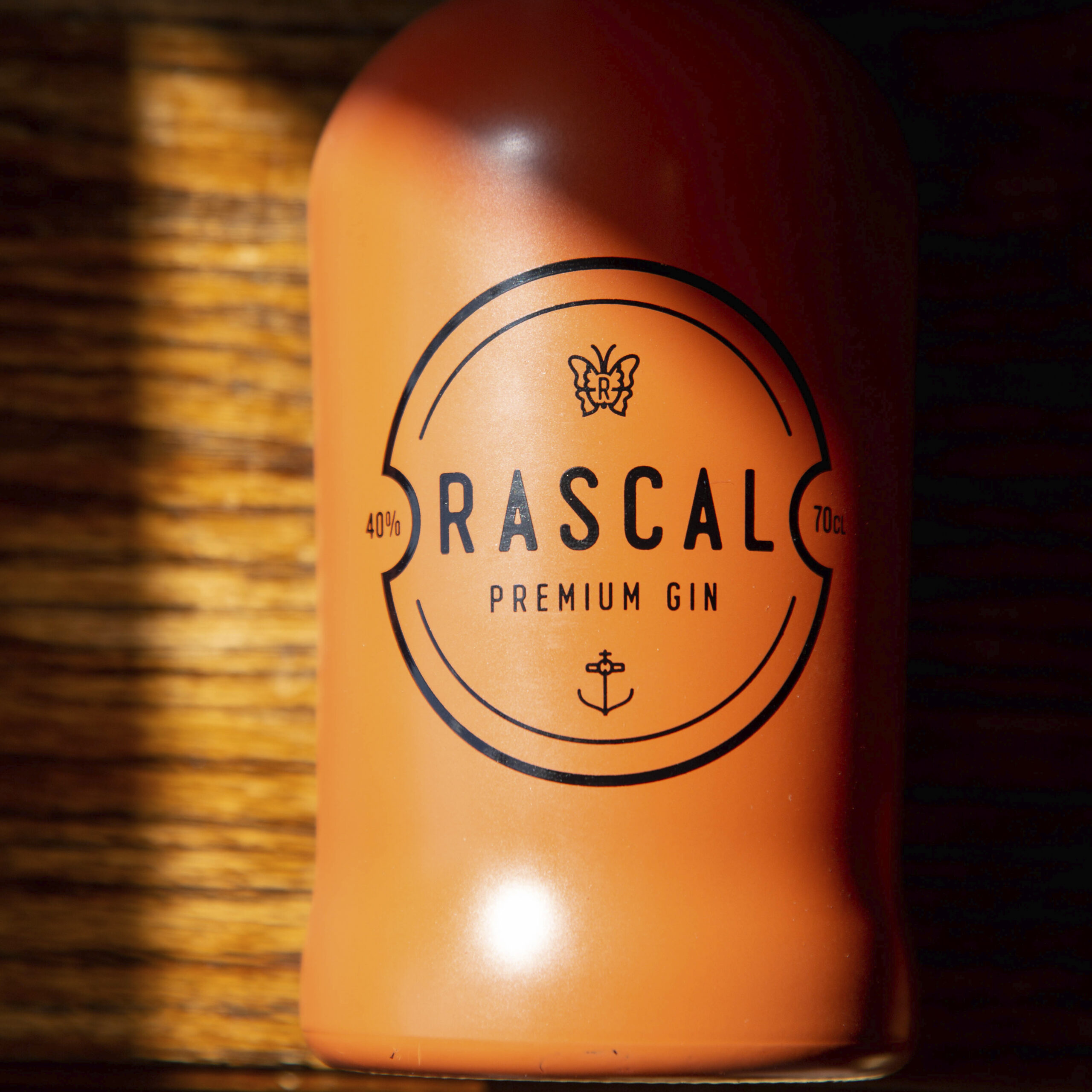 Lockdown #1 lands March 2020
After an unbelievably amazing response in the first year of Rascal, lockdown was a somewhat unexpected challenge. I'd been working on a second expression for a while and this gave me a kick up the arse to get it sorted – sink or swim! Lockdown had obviously impacted many businesses badly, so supply chains were impaired and it took much longer to get Blood + Passion bottled. Finally bottled batch 1, June 2020.
Mayday mayday…. Rascal to Locksley… Do you copy?
Another consequence of lockdown was that the bottling plant had changed their business model and discarded all of their small independent customers to focus on the big guns, Whitley Neill etc… So I'd been desperately looking for Rascal's new home. Can't explain how unnerving this was, along with COVID, then my old mates at Locksley Distilling said they might be able to help me out!
The distiller John Cherry (coincidentally sharing the same initials as Jesus Christ) totally saved the day, deciphering my recipes and showing me how to work it all out at their distillery. The saviour, JC. The Locksley guys treated me like family and helped me loads developing Rascal #3 – Pepper Berry.
I suppose many people were popping out babies during the lockdown(s), I may not have done that but I did pop out a couple of gins…